Welkom in onze cattery
Na jarenlang gefokt te hebben met Heilige Birmanen hebben wij een nieuwe liefde gevonden. De eerste foto van een somali deed ons al smelten en na een lange speurtocht naar een 'jonkie' hadden wij wildkleur Lotje gevonden.
Al snel vonden wij een maatje voor haar aangezien er weinige passende katers voor haar waren: fawn kater Buddy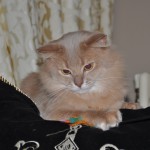 uit de voormalige DDR, we kwamen kijken en hebben hem meteen meegenomen. Helaas is deze mooie man overleden maar heeft hij wel een aantal mooie nestjes verwekt. Uit een van deze nestje hebben we blauwe Burberry gehouden en om het plaatje compleet te maken kwam daar sorrel Engelse Whisper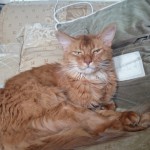 bij, een heerlijk kwartet met alle 4 de normale kleuren. Aardig wat vers bloed in Nederland gebracht dus. En we hebben van tijd tot tijd een nestje met prachtige Somali kittens in deze 4 kleuren.
Maar toen? Je hebt naast de half langharige Somali natuurlijk ook de kortharige Abessijn, aangezien ik een tik heb met kleurtjes en we al 4 kleuren Somali hadden ging ik eens nadenken hoe dit aan te pakken…nu zijn er nieuwe kleuren in opmars met een goede gezonde achtergrond, rood met verdunning crème en chocolate met verdunning lilac, kijk dat opende perspectief. Na wat zoeken en heel veel geduld en een cursus genetica kwam daar genetisch rode Abessijn Guimauve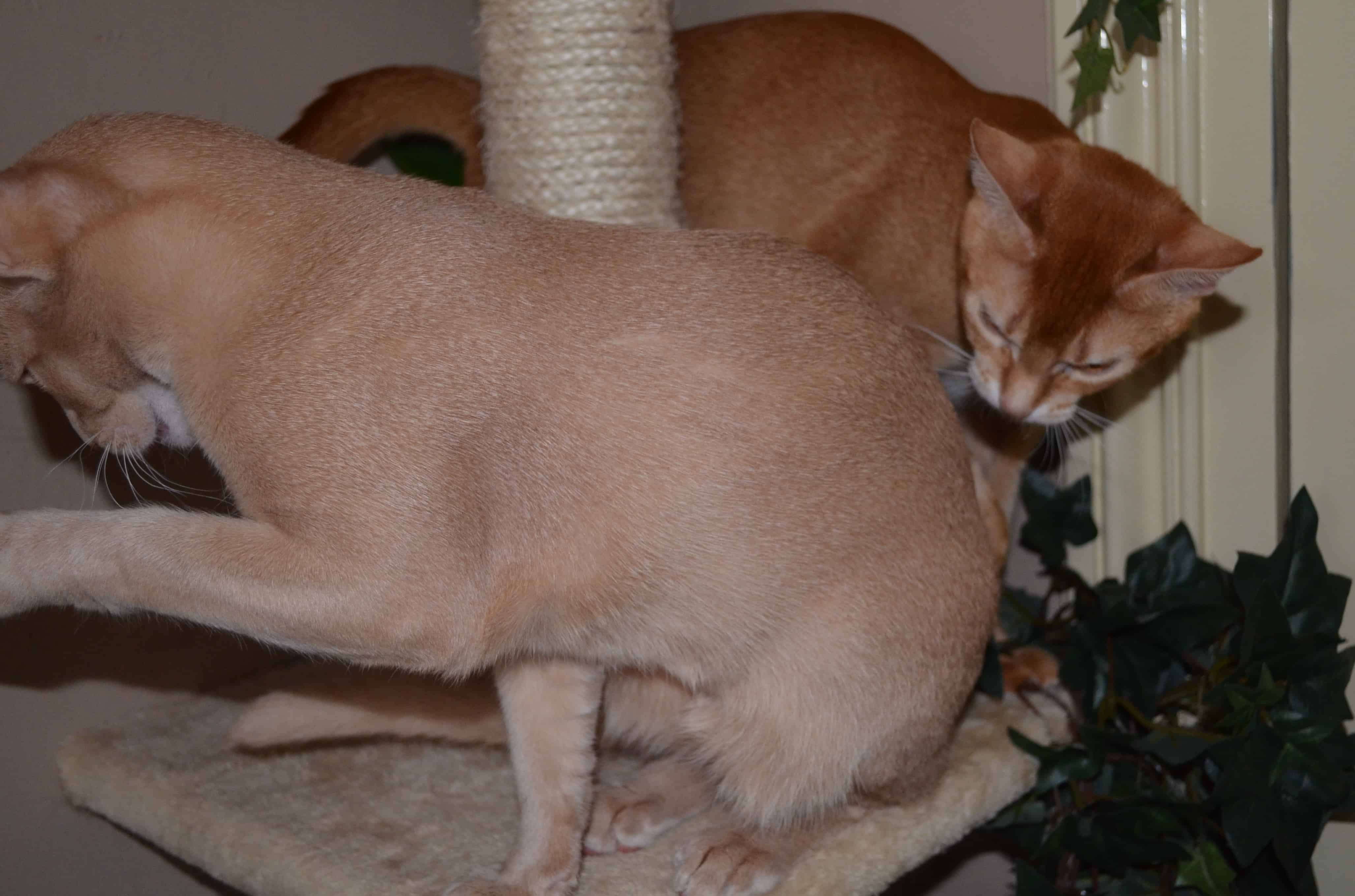 in de picture. Deze diva komt uit Genève en spreekt uiteraard beschaafd Frans, aangezien deze seks-gelinkte kleuren genetisch anders vererven en ik niet zo'n fan ben van tortie katten hebben we als sluitstuk crème kater Mac uit de VS over laten komen. Een heerlijke knuffelkont, dus vers bloed en nieuwe kleuren in Nederland, ik ben een gelukkige fokker! Uit deze combinatie komen dus alleen volle kleuren rood en crème , als er vraag naar is mag Mac ook dekkingen geven aan liefhebbers of fokkers die interesse hebben in deze nieuwe kleuren.
Ik ga nooit zoveel naar shows maar nu ik meer tijd heb wil ik zeker gaan proberen om mooie titels voor de Abessijnen te scoren, met de nieuwe kleurtjes ben je dat eigenlijk wel een beetje verplicht natuurlijk, zo krijgen deze kleuren ook weer meer bekendheid en uiteraard zijn onze Abessijnen de mooiste ter wereld dus kom maar op met die bekers ;-).
Tja, en soms gebeuren dingen niet zonder reden, ik kreeg zomaar uit het niets een pm of ik eens wilde kijken naar een paar kittens waarvan de bezoekende dekkatereigenaar zweerde dat het een chocolate en een lilac was, en tja…ik ben van de kleurtjes natuurlijk dus ik zei: kom maar op met die kittens…van het choclaatje was ik meteen zeker. Dit was idd een chocolaatje, van de lilac was ik minder zeker, kon ook een fawn zijn mi. Maar goed, de fokker vertelde dat er een reden achter zat dat ze mij inschakelde aangezien de dekkatereigenaar nog wist dat ik tijden geleden eens bij haar geïnformeerd had naar een dekking van een lilac kater en ik dus waarschijnlijk wel interesse had, en ja daar had ze een punt natuurlijk. Als slagroom op het toetje bleek Seymour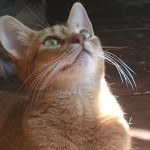 ook nog een heerlijk aanhankelijke vrijdoos te zijn, kopjes geven en gewoon de pootjes om je nek draperen, hoe lief is dat…dus ze mocht blijven!
Het liefst zou ik natuurlijk nog een lilacje erbij willen om dit kleurenpalet ook compleet te maken maar mijn man is na heel veel discussies al zo tolerant geweest met de Abessijnen, dat het nu echt voldoende is met 7 katten in huis. Het is al een hoop werk zo! Maar stiekem hoop ik dat hij nog een keer van gedachte veranderd. Ik bedoel…7 of 8..maakt niets uit toch!!!
Na wat veranderingen en pensioneringen in de groep zijn we wat kleiner geworden. Er zijn 2 katten herplaatst en er is een jong ras bijgekomen, de Selkirk Rex.
Jacqueline 

"The greatness of a nation and its moral progress can be judged by the way its animals are treated."
– Mahatma Gandhi